HIGH-PERFORMANCE COMPOSITE REPAIR SOLUTION FOR PIPE REINFORCEMENT
| | |
| --- | --- |
| DEFECT TYPE | External corrosion, cracks and dents |
| DETAILS | PIPE DETAILS: 20" buried oil pipeline – design temperature 30°C - design pressure of 78 bar |
| LOCATION | FRANCE |
| 3X PRODUCT | REINFORCEKiT® 4D using BOBIPREG® |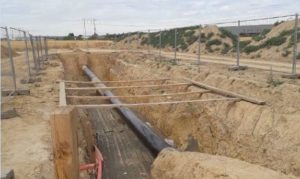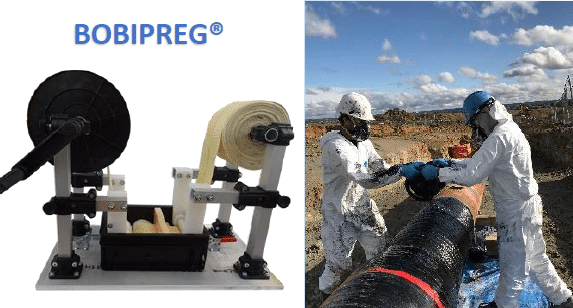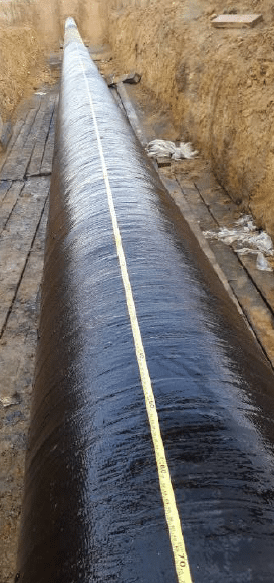 OVERVIEW
The objective of the several repairs, carried out by 3X ENGINEERING (3X) and its French distributor PLS CONTROLE, was to reinforce a strategic oil pipeline (260 km long) in France suffering from various defects (external corrosion, cracks and dents).
SCOPE OF WORK
As per ISO 24.817 requirements and 3X repair calculations, between 4 and 32 composite layers of REINFORCEKiT® 4D EC, were needed to reinforce the various defects (external corrosion defects, cracks and dents) and restore the original design pressure.
A total of over 100 repairs were performed on the pipeline. This represents approx. 250m in terms of linear repair length.
The largest composite repair performed on this pipeline measured 9,4m (the longitudinal weld was damaged by external corrosion). Almost 2.3km of Kevlar® tape and 230kg of epoxy resin together with 16kg of filler have been used to reinforce the area.
Below are the different steps performed as part of this repair – the procedure was the same for all the repairs performed on the pipeline.
1. Surface preparation was made according to 3X requirements to get a good surface roughness (60µm at least) and ensure a good bonding between the steel of the pipe and the composite of the repair. Hygrometric conditions were checked and the surface was cleaned using acetone.
2. F3X8 filler was applied over the defect to restore a smooth shape.
3. Composite wrapping was then applied using Kevlar® tape impregnated with R3X1060 resin 14 layers and 9400mm repair length for the largest repair. To save time and speed-up the wrapping process, the repair was performed using 2 specific tools developped by 3X.
4. BOBIPREG® machine: field-impregnation system that allows a quick and regular Kevlar® tape impregnation with resin before wrapping.
5. 3X handles: device that ensures constant and controled tape tension during wrapping.
6. Reference plate was installed for traceability purpose.
For each repair, samples of filler and resin were taken during application for quality control.
RESULTS
Hardness measurements performed after polymerization confirmed the good performance of the repairs. Repair lifetime: 20 years for external corrosion defects and dents.