Considered as an emergency repair, STOPKiT® VESSEL is a stop leak solution for pressure vessel and tank. It is the most efficient repair system applicable under pressure. This unique and revolutionary concept, patented by 3X ENGINEERING (3X), allows to fix high pressure leaks by tightening. Installation can be done without shutting down the line pressure.
The tank/ pressure vessel surface must be without sharp edges, but the system can be applied on irregularity like welding wire or corrosion cankers, so it's the best system to repair damaged and leaking tank/ pressure vessel.
This product has a large range of performance: it can stop a leak up to 30 bars on pressure vessels and tanks operating up to +80°C, from 1.5m to 3.5m diameters in onshore and offshore environments.
STOPKiT® VESSEL Concept
The system operates by concentrating all the needed stress in the tank at the defect location. The hoop stress needed to stop the leak is brought by the technical strap and the screws. The high-performance fibers of the strap are temperature and stress resistant.
STOPKiT® VESSEL FEA study
When the screws are tightened, the strap transfers the strain to the technical rubber patch in order to get the imperviousness. In fact, tightening the screws will induce a tension force in the belt, and this will perform the radial force on the leak point via the applicator. The applicator adds a tension force component to the radial force, then the distributor increases the pressure locally with the ribs and the containment grooves, as a stress concentrator, on the sealing pad.
STOPKiT® VESSEL COMPOSITION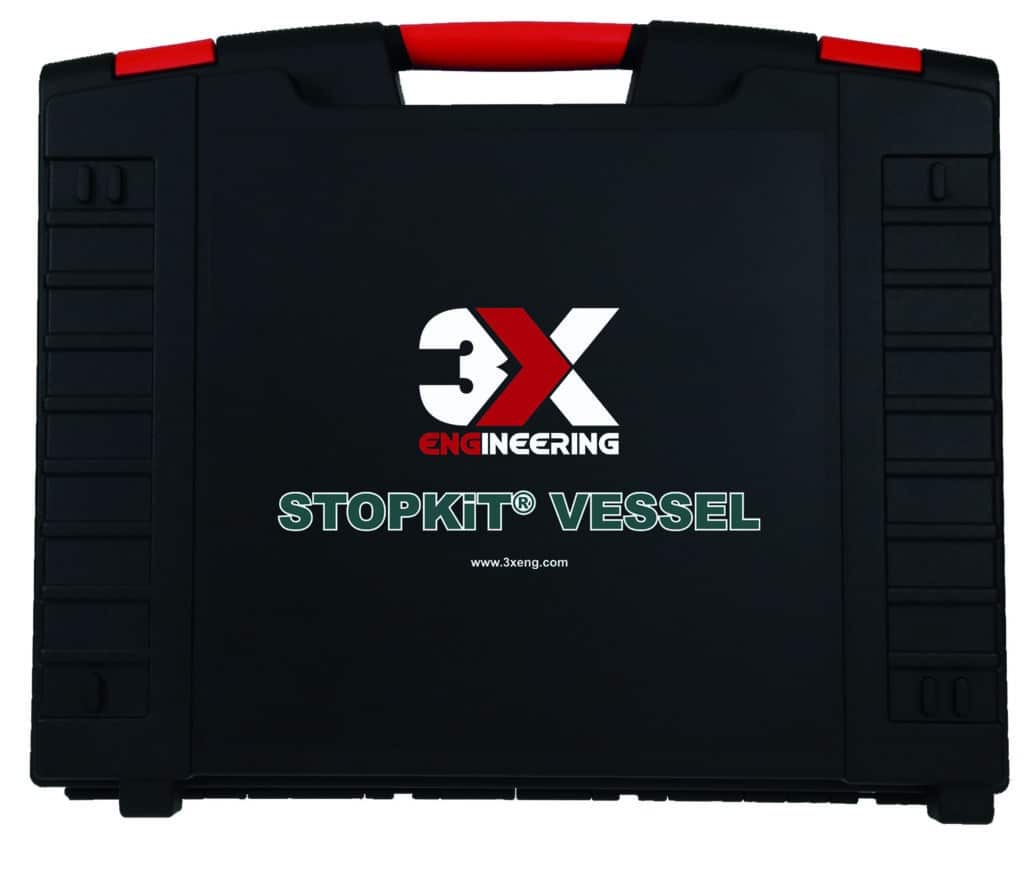 1 belt + tightening system (ratchet strap and screws)
1 rubber Patch 100mmx100mm
1 torque wrench
2 positioners and 1 centerer
5 additional patches
1 White marker
6 magnets and tightening system for vertical tank (strip + magnets)
1 protective canvas large dimension (for the belt + tightening system)
Installation procedure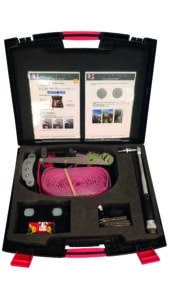 Depending on tank diameter, the length of belt is subject to change. Do not modify the composition of the STOPKiT® VESSEL for quality purpose. Do not try to adapt a STOPKiT® VESSEL on another tank / pressure vessel diameter than mentioned on the packaging.
STOPKiT® VESSEL versions can be used in most environments: Onshore and Offshore. Because the environment is more aggressive in offshore conditions, the composition of the belt and the tightening system is slightly different to make it more resistant.
TECHNICAL SPECIFICATIONS FOR STOPKiT® VESSEL ONSHORE (2.5m & 3.5m)
STOPKiT® VESSEL ONSHORE version is dedicated for onshore environment such as refinery or inland tank.
The color of the belt is yellow.
TECHNICAL SPECIFICATIONS FOR STOPKiT® VESSEL OFFSHORE (2.5m & 3.5m)
STOPKiT® VESSEL OFFSHORE version is dedicated for offshore environment such as platform in harsh environment.
The belt of this STOPKiT® VESSEL is not only lighter and more flexible but is also very resistant to water/sea water. It will improve the long-term product efficiency. The color of the belt is red.
DENOMINATION
STOPKiT® VESSEL 2.5
STOPKiT® VESSEL 3.5
USE
ONSHORE ENVIRONMENT – EMERGENCY REPAIR
TANK DIAMETER
From 1.5m to 2.5m (58'' to 98')'
From 2.5m to 3.5m (99'' to 138'')
MIN. TEMPERATURE
-20°C / -4°F
MAX. TEMPERATURE
+80°C / +176°F
PATCH SIZE
100mm x 100mm
MAXIMUM DEFECT SIZE
Ø≤ 40mm
MAXIMUM PRESSURE
30 bars / 435 psi
DENOMINATION
STOPKiT® VESSEL 2.5
STOPKiT® VESSEL 3.5
USE
OFFSHORE ENVIRONMENT – EMERGENCY REPAIR
TANK DIAMETER
From 1.5m to 2.5m (58'' to 98')'
From 2.5m to 3.5m (99'' to 138'')
MIN. TEMPERATURE
-20°C / -4°F
MAX. TEMPERATURE
+80°C / +176°F
PATCH SIZE
100mm x 100mm
MAXIMUM DEFECT SIZE
Ø≤ 40mm
MAXIMUM PRESSURE
30 bars / 435 psi
IMPLEMENTATION BY TRAINED AND CERTIFIED APPLICATORS ONLY