HIGH-PERFORMANCE COMPOSITE REPAIR SOLUTION FOR PIPE REINFORCEMENT
| | |
| --- | --- |
| DEFECT TYPE | Leaks and welding defects |
| DETAILS | 32'' column – Vapor with Glycol – max op. temperature 60°C - design pressure 42 bar |
| LOCATION | IRAQ |
| 3X PRODUCT | REINFORCEKiT® 4D |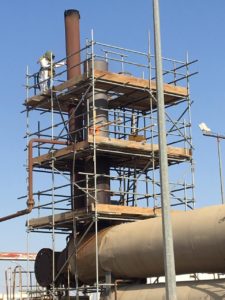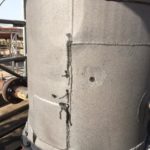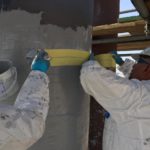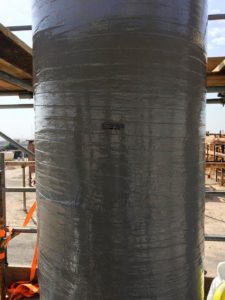 OVERVIEW
The objective of the repair, performed by 3X ENGINEERING (3X) local distributor GULFSTAR, was to reinforce the line suffering from severe internal corrosion and leading to through wall defects ( 12 leaks).
SCOPE OF WORK
According to ASME PCC-2 and 3X repair calculations, 6 composite layers of REINFORCEKiT® 4D HT+ (specifically dedicated to high temperature) were determined to reinforce the damaged area with leaks.
Before starting the repair, surface preparation was completed with grit blasting. A test was then conducted on different locations of the column to confirm the surface roughness was made according to 3X requirements (between 60 and 100µm).
Hygrometric conditions were checked and the whole prepared surface was cleaned with acetone before starting the wrapping reinforcement.
The composite repair was then performed following the steps described below:
1. F3XS1 filler (epoxy filler with high mechanical properties and chemical resistance) was applied on the leaks to plug them. F3X8 filler was preferred to be applied around the welded joint to smooth the shape and improve the Kevlar® tape fitting on the column.
2. R3XHT+ resin was applied on the surface to ensure good wetting and the perfect impregnation of the Kevlar® tape.
3. Composite wrapping was completed using Kevlar® tape impregnated with R3XHT+ resin 6 layers and 3500mm total repair length.
4. Finalization of the repair. A layer of R3XHT+ was applied all over the repair to ensure good wetting and improve the visual aspect. Reference plate was installed for traceability purpose.
Samples of filler and resin were taken during application for quality control.
RESULTS
Hardness measurements were performed 2 days after job completion and concluded the good achievement of the reinforcement. This job was challenging because of the quantity of leaks to be plugged. The column was successfully repaired on the sensitive area and is now protected from leaking issues.