HIGH-PERFORMANCE COMPOSITE REPAIR SOLUTION FOR PIPE REINFORCEMENT
| | |
| --- | --- |
| DEFECT TYPE | Dent, gouge and leak |
| DETAILS | 24" OD (API 5L Grade B, t=8.1mm) ; 12.66 bar ; pipe temperatur 60°C |
| LOCATION | Martinique |
| 3X PRODUCT | REINFORCEKiT 4D (R4D) |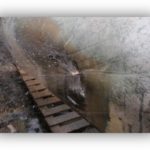 OVERVIEW
One onshore transfer 24'' pipeline was damaged by an excavator which caused both one large dent and a leak. The pipeline reinforcement was performed by 3X ENGINEERING (3X) team.
SCOPE OF WORK
The whole repair was done according to the proprietary 3X finite elements calculation programme. Twenty (20) layers of composite were found necessary to reinforce the pipeline.
The pipe was fully flooded with water. The leak sealing was done by using arc welding.
F3X8 filler (3X) was applied at the welding area. The dent and its gouges were also filled in with this filler.
As this pipeline operates between ambient and 60°C temperature, the R4D-IC kits were used. Aramide tape was impregnated with R3X5 resin (3X) and helically wrapped with 50% tape overlap.
Curing time of 72 hours was done  prior to hydrotest at 10 bar pressure.
RESULTS
On this quite special case 3X ENGINEERING has demonstrated once again its efficiency and competency in damaged pipeline repairs and particularly in the particular case of very severe dents with gouges (onshore & offshore).
Our on-site pro-active support allowed a restarting of the pipeline without removing the damaged pipe.