HIGH-PERFORMANCE COMPOSITE REPAIR SOLUTION FOR PIPE REINFORCEMENT
| | |
| --- | --- |
| DEFECT TYPE | Sweepolet defected welding joints |
| DETAILS | PIPE:32" OD (X52, t=7.92mm) ; SWEEPOLET: 1'' OD & 2''OD ; NOMINAL PRESSURE: 50 bar ; TEMPERATURE: 20°C |
| LOCATION | Meximieux, FRANCE |
| 3X PRODUCT | REINFORCEKiT 4D (R4D) |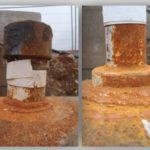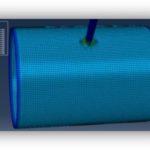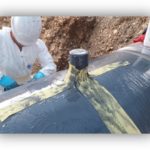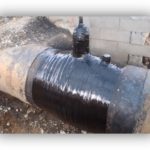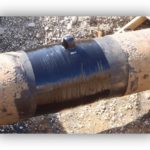 OVERVIEW
Two defects were found on sweepolet welding joints due to bad molten metal using ultrasonic gauge.
SCOPE OF WORK
The whole repair was done according to the proprietary 3X finite elements calculation software. Fifty six (56) layers of composite for the first sweepolet (96% wall thickness loss) and twenty (20) layers for the second sweepolet (67% wall thickness loss) were found necessary to reinforce the pipeline.
 Surface preparation was made using sandblasting device. Pipeline was repressurized just after surface preparation up to operational pressure in order to minimize production loss.
F3X8 filler (3X) was applied at the sweepolet welding joints.

As this pipeline operates between ambient and 60°C temperatures, a combination of R4D-IC and R4D-EC kits were applied.
Aramide tape was impregnated with R3X5 resin, then with R3X1060, and helicoïdally wrapped with 50% tape overlap.
Curing time of 72 hours was necessary to get a fully functional repair.
RESULTS
On this special case 3X ENGINEERING has demonstrated once again its efficiency and competency in defected sweepolet and welding joints reinforcement (onshore & offshore).