ERMERGENCY COMPOSITE COMPOSITE REPAIR SOLUTION FOR TANK REINFORCEMENT
| | |
| --- | --- |
| DEFECT TYPE | External corrosion with leak |
| DETAILS | Storage Oil Tank ; NOMINAL PRESSURE:1.5 bar ; TEMPERATURE:Ambient |
| LOCATION | Tsiengui Panga, GABON |
| 3X PRODUCT | Composite Solution (3X specific filler) |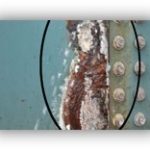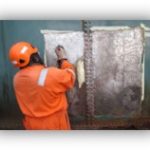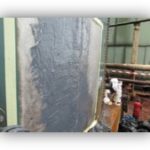 OVERVIEW
The objective of the repair performed by 3X ENGINEERING and its local distributor FRIEDLANDER, was to stop a severe corrosion on the joint of the lower wall panel and to reinforce the tank integrity.
SCOPE OF WORK
– Design of the repair has been done by finite elements calculation.
– Surface preparation (ST3 Standard) was carried out using Bristle Blaster tools.
– F3X8 filler has been used to seal the leak, fill the corroded area and coat the nuts prior composite stratification.
– Layers of composite (resin-impregnated glass fiber) were applied to reinforce the damaged area as per 3X procedure.
– After curing time, the tank has been filled to its optimum level with crude oil.
RESULTS
This case has been managed by FRIEDLANDER, our local distributor in Gabon, with our technical support from Monaco. It proves once again the capabilities of our local partner and 3X solutions in such case.