HIGH-PERFORMANCE COMPOSITE REPAIR SOLUTION FOR PIPE REINFORCEMENT
| | |
| --- | --- |
| DEFECT TYPE | Axial Slot External Corrosion in Subsea Environment |
| DETAILS | PIPE: 10" OD - max 50°C pipe temp. - 20 bar design pressure |
| LOCATION | INDIA |
| 3X PRODUCT | REINFORCEKiT 4D Subsea (R4D-S) |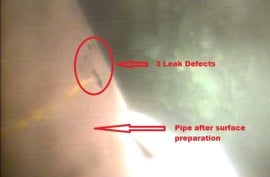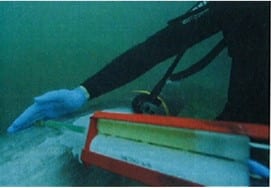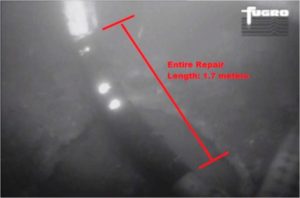 OVERVIEW
The objective of the repair performed by 3X ENGINEERING and its local distributor 3X INDIA was to reinforce 11 leaking defects over 1.7 meter length of a subsea pipe section due to severe corrosion.
SCOPE OF WORK
After calculations and Finite Elements Analysis (FEA), 26 layers have been determined to perform the repair.
Underwater, after removal of metal clamps and concrete over the pipe, a surface preparation was performed to get a good surface roughness (60-micron surface profile).
The wrapping repair has been performed following several stages :
1/ Special subsea filler (F3XSS) application to fill the leaks and provide a solid and smooth curvature.
2/ Sandblasted thin steel plates (with filler), fixed with straps during curing time, installed over the defected area.
3/ Second filler application performed to ensure removal of sharp edges and stress concentration areas.
4/ Primer application on the entire repair using a gun with bi-component cartridge.
5/ Wrapping using Kevlar and R3X1050-S resin on the whole repair surface (steel plates and pipe) to avoid differences of level and to increase quality of the 1st layer wrapping.
A protective cover has been applied to protect the recently installed layers and a 72-hour curing time has been allowed before pressuring the pipe.
RESULTS
Based on its experience acquired during two recent subsea projects on 32" pipe at 62-meter depth, 3X Engineering has been able to conduct with success this complicated job. Applying our products in deep water is very sensitive and needs to be performed with high-qualified staff and high-performance equipments. This pipe repair was successfully completed and after service, no leak was observed.