HIGH-PERFORMANCE COMPOSITE REPAIR SOLUTION FOR PIPE REINFORCEMENT
| | |
| --- | --- |
| DEFECT TYPE | Severe external corrosion spots & leaking defect |
| DETAILS | PIPE DETAILS: 20" Gas pipeline - max. operating temp. 60°C – design pressure 172 bars |
| LOCATION | IRAN |
| 3X PRODUCT | REINFORCEKiT 4D (R4D) |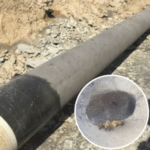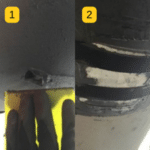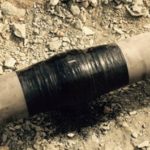 OVERVIEW
The objective of the repair performed by 3X ENGINEERING and its local exclusive distributor TAVANA PIPELINE ENGINEERING was to reinforce and stop corrosion on localized area of the pipe (several external corrosion spots and one 1mm diameter hole.
SCOPE OF WORK
After calculations and Finite Elements Analysis (FEA), 68 layers have been determined to perform the repair.
Because of the leaking defect the repair has been performed offline. An initial sandblasting has been made prior 3X intervention to get a good surface roughness (75-micron surface profile).
Before wrapping, climatic conditions have been checked and the surface has been cleaned and degreased.
The wrapping repair has been performed following several stages:
1/ Special filler (F3XS1) application to rebuild the surface.
2/ Metallic steel plate (with filler), fixed with straps during curing time, installed over the defected area.
3/ Second filler application performed to ensure the proper impregnation of the first layer.
4/ Wrapping using Kevlar and R3X1080 resin. 68 layers of composite (over 88cm) were applicated to reinforce the pipe i.e. 34 passes (50% overlap).
Identification plate for traceability has been positioned on the pipe. Curing time of the composite system required 50°C during 3 days. This curing process has been initiated with heating blanket during 72 hours.
RESULTS
Thanks to the efficient collaboration between 3X and its local distributor, the pitted areas have been repaired using our REINFORCEKiT 4D-ECHT and the pipeline is now protected from external corrosion. The pipe integrity has been restored and the pipeline has been pressurized successfully back up to 153 bars.