COMPOSITE REPAIR SOLUTION FOR STRUCTURE REINFORCEMENT
| | |
| --- | --- |
| DEFECT TYPE | Catenary supports suffering from 80% of corrosion |
| DETAILS | Dean of the SNCF (FRENCH NATIONAL RAILWAY COMPANY) |
| LOCATION | FRANCE |
| 3X PRODUCT | REINFORCEKiT® BEAM |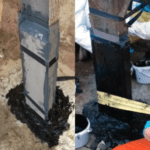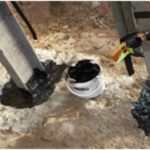 OVERVIEW
The objective of the repair performed by 3X ENGINEERING was to reinforce 15 corroded catenary supports of 50 years old situated on a railway line in the South of France.
SCOPE OF WORK
The repair has been designed using modelisation and finite element simulation.
First of all, the bases of the structures have been properly prepared to receive REINFORCEKiT® BEAM product (vegetation cleaning around the support, water removal and support drying …)
The beam reinforcements have been performed following several steps :
1/ Surface preparation with sandblasting to get a good surface roughness (60-micron surface profile).
2/ 3X filler application at the base of the structure for sealing the junction between concrete and beam.
3/ Metal inserts preparation and application.
4/ Composite reinforcement wrapping using Kevlar® and 3X specific resin around the base of the structure.
5/ Special coating application to protect the repair against UV & impacts and reference plate installation for traceability.
RESULTS
Based on its experience acquired since 2011 in the transport industry, 3X Engineering has been able to restore the integrity of all damaged beams without stopping train traffic. This accurate implementation needs to be performed with high-qualified applicators and top quality products. Since the launch of this product over a thousand of supports have been renovated successfully.