PROTECTIVE COMPOSITE SOLUTION FOR CORROSION UNDER PIPE SUPPORT
| | |
| --- | --- |
| DEFECT TYPE | Pipe supports protection (dn500 & dn300) |
| LOCATION | FRANCE |
| 3X PRODUCT | ROLLERKiT® |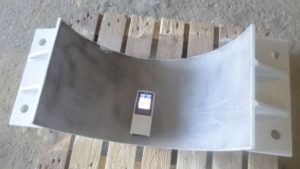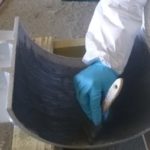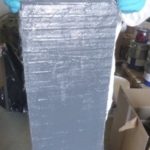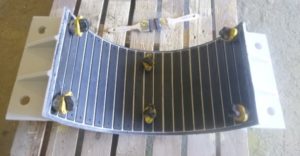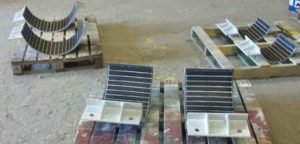 OVERVIEW
The objective of the job performed by two 3X specialists was to protect 6 pipe supports (DN500 and DN300 models) using our ROLLERKiT®, product specifically dedicated to protect the area between the pipe and the support.
SCOPE OF WORK
After calculations, 2 ROLLERKiT® were necessary to protect the 6 supports. One ROLLERKiT® is made of 86 pads and can protect several supports depending on support model and size.
The repair was performed following 4 main stages:
1. SURFACE PREPARATION OF THE SUPPORTS using sandblasting in order to get a surface roughness Rz > 60µm. Hygrometric and roughness measurements to make sure that all satisfactory conditions are fulfilled. Degreasing and cleaning using acetone to ensure that the surface is completely free from residue.
2. ROLLERKiT® INSTALLATION. Cutting of the necessary pads number to be installed. Mixing and application of F3X8 filler on the overall surface of the support previously prepared. Impregnation of the ROLLERKiT® (on fiber glass side) with F3X8 filler.
3. ROLLERKiT® FIXING. ROLLERKiT® was then fixed on the supports using magnets to ensure it is not moving during F3X8 filler polymerization.
REPAIR CHECKING. Hardness measurements were performed 4 days after the implementation to confirm the good polymerization of the filler.
RESULTS
The job has been successfully managed by 3X specialists. All the ROLLERKiT® were installed on the supports and F3X8 hardness values were in accordance with 3X requirements.
The supports have been then positioned on site by the client. Pipes and supports are now protected from corrosion under support.