PROTECTIVE COMPOSITE SOLUTION FOR CORROSION UNDER PIPE SUPPORT
| | |
| --- | --- |
| DEFECT TYPE | External corrosion on pipe supports |
| DETAILS | PIPE DETAILS: 18" oil pipeline - pressure 20 bar - design temp. 45°C |
| LOCATION | FRANCE |
| 3X PRODUCT | ROLLERKiT® with REINFORCEKiT 4D |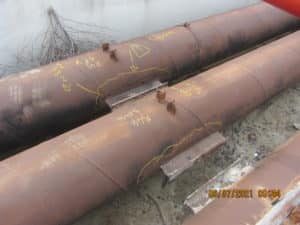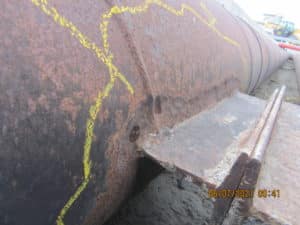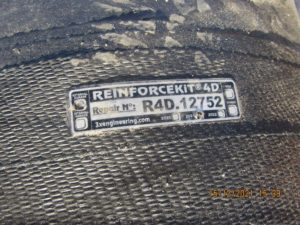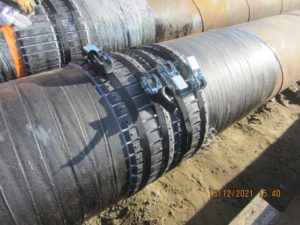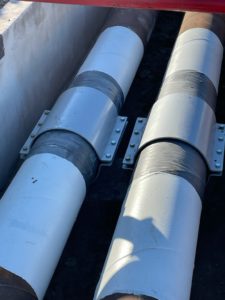 OVERVIEW
Problems of corrosion between the pipe and the support were identified by the client.
The objective of the repair, performed by 3X ENGINEERING (3X) specialists was to reinforce and protect 2 corroded pipe supports. To reinforce pipe supports and prevent further corrosion it was decided to apply a combination of ROLLERKiT® and REINFORCEKiT® 4D (R4D) solutions.
SCOPE OF WORK
According to ISO 24.817 standard and 3X calculations, it was decided to apply first 4 layers of R4D using R3X95 resin to restore pipe integrity. Then it was decided to install ROLLERKiT® on the supports to protect them from further deterioration.
First of all, surface preparation was completed with gritblasting on the defected areas of the pipe and on the supports. This important step allows to get a good surface cleanliness roughness (superior to 60µm Rz) before composite wrapping and ROLLERKiT® installation. Hygrometric conditions were checked and the prepared areas were cleaned with acetone.
Both repairs were then completed following below stages:
1/ F3X8 filler applied on the defected area to reshape the pipe.
2/ R4D wrapping reinforcement of the defected areas were performed using Kevlar® tape and R3X95 epoxy resin to reinforce the pipe. Four layers of R4D, for a total repair length of 1000m, were applied on both pipes and identification plate was installed for traceability purpose.
3/ ROLLERKiT® (pads welded on glass fiber) were installed all around the surface wrapped in contact with the support using F3X8 filler.
4/ Hardness measurements were performed to confirm the good polymerization of the products and ROLLERKiT® installation.
Final step ==> supports installation over 3X solution (= R4D composite wrapping + ROLLERKiT®) managed by the client.
RESULTS
Two pipes with external corrosion at pipe supports were repaired and protected using this combined solution made of R4D composite wrapping and ROLLERKiT®.
The design life for these repairs is 20 years.
Both pipes are now protected from corrosion under supports.