COMPOSITE REPAIR SOLUTION FOR STRUCTURE REINFORCEMENT
| | |
| --- | --- |
| DEFECT TYPE | Corroded structures |
| DETAILS | HEA catenary supports |
| LOCATION | FRANCE |
| 3X PRODUCT | REINFORCEKiT® BEAM |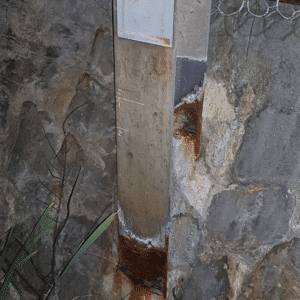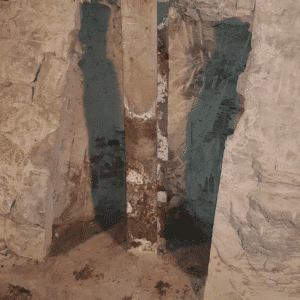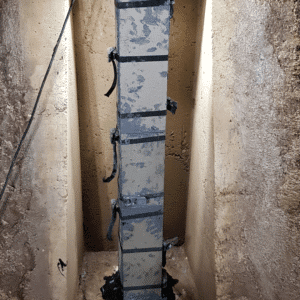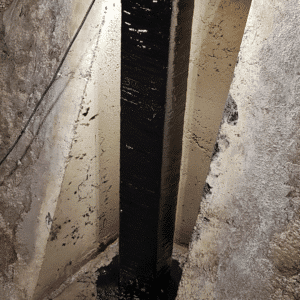 OVERVIEW
The objective of the repair performed by 3X ENGINEERING (3X) specialists was to reinforce 3 catenary supports (HEA beam) damaged by severe corrosion. The damaged structures are located near a railway line.
SCOPE OF WORK
The repair design was performed using finite element analysis.
Before performing the reinforcement, the 1st step was to proceed to a disbursement of the concrete base before reinforcing the beams. This procedure was completed by a service provider.
Then the repair was made by 3X specialists following 4 main steps:
1.SURFACE PREPARATION
The surface preparation was completed using sandblasting to get a good surface roughness (at least 60-micron surface profile).
2.RESIN AND METAL INSERTS APPLICATION
3X resin was applied at the base of the structure to seal the junction between the concrete and the beam. Then metal inserts and steel plates (previously designed and manufactured to fit with the specific geometry of the structure) were installed and fixed using 3X filler and ratching belts.
3.COMPOSITE WRAPPING REINFORCEMENT
Last step but not least was to wrap the composite reinforcement around the 3 beams.
Six layers of Kevlar® tape impregnated with 3X epoxy resin, for a total repair length of respectively 125cm, 140cm and 160cm for the higher one, were necessary to reinforce the structures.
4.IMPACTS AND UV PROTECTION
Each repair was recovered with a specific coating to protect the repair from UV and impacts.
RESULTS
This project was quite challenging because of the very small space to manage the surface preparation and REINFORCEKiT® BEAM application. Additionnaly, the structures reinforced were over 50m-height! The job was successfully completed at night to avoid stopping traffic. The structures are now reinforced for 20-year minimum.
To date the 160cm structure reinforcement is the highest ever performed by 3X with our REINFORCEKiT® BEAM.