ONLINE SF6 LEAK SEALING SOLUTION FOR FLANGE REPAIR
| | |
| --- | --- |
| DEFECT TYPE | SF6 gas leakages on flanges |
| DETAILS | Inspection cover - AREVA - tension 400kv - pressure 5.2 bars - install. temp. 25°C |
| LOCATION | UK |
| 3X PRODUCT | REFLANGEKiT® |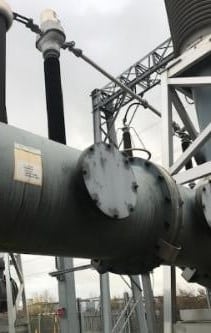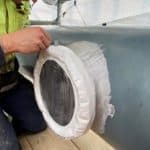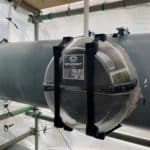 OVERVIEW
The objective of the repair, performed by 3X ENGINEERING (3X) and its local distributor EMT was to repair 5 leaking flanges with SF6 gas.
SCOPE OF WORK
After data analysis and 3X calculations, 3X Engineering Department decided to manufacture a specific mould so that REFLANGEKiT® product perfectly fits to the flange geometry and seal SF6 leaks.
All the following information describe the steps performed to fix the leaks on live assets. The same implementation was completed for each flange.
The flanges to be repaired were located at 4m-high, therefore scaffholding with waterproof shelter was used in case of bad weather.
Before installing REFLANGEKiT® product, hygrometric conditions were checked and surface preparation was performed using Bristle Blaster® to get a good surface roughness and then ensure the perfect bonding of the product.
The repairs were then performed following below stages:
1/ Soft shell installation around the leaking flange. The goal is to protect all the functional parts and concentrate SF6 gas leak into the valve (located on the top).
2/ Soft shell insulation using specific 3X filler and soft shell compression with adhesive tape to reduce SF6 gas volume inside.
3/ Composite reinforcement (made of fiberglass and 3X epoxy resin) was applied over the shell to reinforce the repair system.
4/ Hard shell application.The rigid sleeve was prepared to fit perfectly with the location of the valve and installed over the flange (hold with ratchet belts).
5/ 3X epoxy resin injection into the rigid sleeve through an overflow.
6/ Valve closing. After 3X resin curing, the vent was removed and the valve was closed and sealed .
7/ Finalization of the repair. The valve was finally covered with 3X resin and hardness checking was performed to make sure REFLANGEKiT® system was fully efficient.
RESULTS
This REFLANGEKiT® model was specially designed for the particular geometry of the flanges and was installed for the first time worldwide. The repairs were performed with success on safe conditions according to 3X procedures.