COMPOSITE REPAIR SOLUTION FOR STRUCTURE REINFORCEMENT
| | |
| --- | --- |
| DEFECT TYPE | Catenary supports protection |
| LOCATION | FRANCE |
| 3X PRODUCT | DKiT® |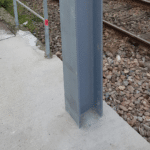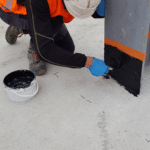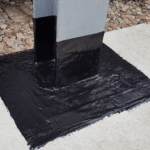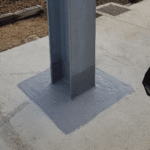 OVERVIEW
The objective of the job performed by 3X ENGINEERING (3X) specialists was to protect 2 new catenary supports (HEA beams) from corrosion. These structures are located near a railway line.
To this purpose, DKiT® product was installed on the base of these beams. This long-term protection is dedicated to prevent corrosion issues and climatic aggressions on any kind of structures, new or old, without size limitation.
SCOPE OF WORK
DKiT® is a combination of 3 high-performance coatings. Each layer of coating has one specific action and added together they will create a high protection to increase structure sustainability.
The protective operation was performed following 3X installation procedure made of 4 main steps:
1/ SURFACE CLEANING
The surface was firstly dusted and cleaned using acetone. Hygrometric conditions were checked and the area to be protected was delimited. For a new beam of this design, it is necessary to treat a height of 25cm.
2/ ANTICORROSIVE COATING APPLICATION
3X high-bonding epoxy resin was applied on the concrete structure area, previously delimited, including on the support (= base of the structure) to create a first sealing layer.
3/ WATERPROOFING FILLER APPLICATION
Elastomeric filler was applied on the junction between the structure and the support to avoid water infiltration.
4/ ANTI-UV / HUMIDITY / IMPACT PROTECTIVE COATING APPLICATION
Final specific protective coating was applied on the same area mentioned in step 2 to protect against deterioration and climatic variations.
RESULTS
The job was perfectly carried out by 3X specialists and both catenary supports were protected using DKiT® product. They are now protected from various problems like corrosion, climatic aggressions, impacts … This product has a long-term performance that increased considerably your structures sustainability.