ONLINE LEAK SEALING SOLUTION FOR EMERGENCY PIPE REPAIR
| | |
| --- | --- |
| DEFECT TYPE | Leakage |
| DETAILS | 20'' gas pipeline, pressure 26 bars |
| LOCATION | CROATIA |
| 3X PRODUCT | STOPKiT® |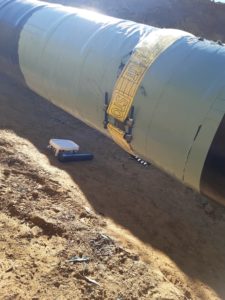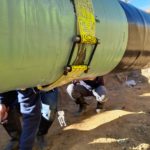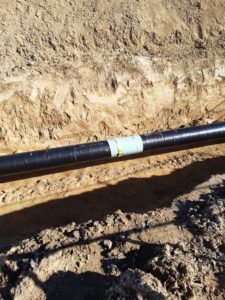 OVERVIEW
The objective of the repair, performed by 3X ENGINEERING (3X) local distributor FEROMIHIN was to seal online a gas leak on a 20″ pipeline.
The leakage was discovered during the reconstruction of the pipeline and application of new corrosion protection system when workers discovered bubbles under new layer of protective tape. To carry out the repair, it was decided to use 3X emergency leak sealing system STOPKiT®.
SCOPE OF WORK
The leakage, almost microscopic, was situated on spiral weld at 5 o'clock. A gas detector foam was used to detect the exact location of the leakage.
The repair was performed according to 3X installation procedure described below using STOPKiT® reference STON020 (suitable reference for a 20″ pipe in onshore environment):
1/ STOPKiT® was positioned next to the leakage using specific positioner device.
2/ STOPKiT® was then slided and the rubber patch perfectly centred over the leakage.
3/ Once positioned over the leakage, STOPKiT® right and left screws were tightened alternatively to keep the two bars parallel. It was repeated until torque reached 40Nm for both screws.
4/ STOPKiT® positioner device was removed and the leakage sealed.
RESULTS
This job was successfully managed by our trained and certified distributor and the leakage was stopped within few minutes thanks to our emergency pipe repair system STOPKiT®. This product is easy to store, ready to use and will avoid a disaster, affecting the integrity of your assets.