HIGH-PERFORMANCE COMPOSITE REPAIR SOLUTION FOR PIPE REINFORCEMENT
| | |
| --- | --- |
| DEFECT TYPE | Crack on tee |
| DETAILS | 56" Gas pipeline - max. operating temp. 80°C – design pressure 90 barg |
| LOCATION | IRAN |
| 3X PRODUCT | REINFORCEKiT 4D (R4D) |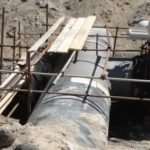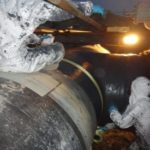 OVERVIEW
The objective of the repair performed by 3X ENGINEERING and its local exclusive distributor TAVANA PIPELINE ENGINEERING was to reinforce a 56" pipe damaged by a longitudinal crack.
SCOPE OF WORK
After calculations and Finite Elements Analysis (FEA), 8 layers have been determined to perform the repair.
Because of the specific geometry of the pipe, it has been decided in accordance with the client to extend the repair length from 1.17m to 2.4m to cover all the tee section. Prior to 3X intervention sandblasting was completed to get a good surface roughness (100-micron surface profile was measured).
Before wrapping, climatic conditions have been checked and the surface has been cleaned and degreased.
The wrapping repair has been performed following several stages:
1/ F3X8 filler application to shape the welding joint and the crack.
2/ Two first layers with R3X5 resin were applied on the tee in order to cover the 3 parts of the pipe.
3/ Wrapping process was then started on the straight part using Kevlar® and R3X1060 resin 6 layers of composite over 2.4m were applicated. On the branch 8 layers were implemented to secure the defected area.
Identification plate for traceability has been positioned on the pipe. Hardness measurements have been performed 3 days after job completion.
RESULTS
Thanks to the efficient collaboration between 3X and its local distributor, the pipe have been quickly and successfully repaired using our REINFORCEKiT® 4D, despite the geometry and pipe diameter complexity.