HIGH-PERFORMANCE COMPOSITE REPAIR SOLUTION FOR PIPE REINFORCEMENT
| | |
| --- | --- |
| DEFECT TYPE | Internal corrosion & hole |
| DETAILS | 8" Tee – Water line – operating temperature 60°C - operating pressure <1 bar |
| LOCATION | OMAN |
| 3X PRODUCT | REINFORCEKiT® 4D |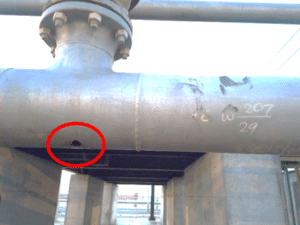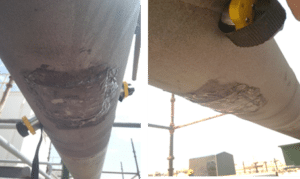 OVERVIEW
The objective of the repair, performed by 3X ENGINEERING (3X) and its local distributor SYNERGY, was to reinforce 2 tees of 8" suffering from internal corrosion and through wall defect.
SCOPE OF WORK
Calculations using 3X software were performed to define the minimum thickness and length necessary to give back the full integrity of the pipe, (according to the design pressure and temperature). Following client's request, it was decided to design the repair according to no standard, to reduce the number of layers. In these conditions, 3X advised to apply a minimum of 12 layers of REINFORCEKiT® 4D HT+ (specifically dedicated to high temperature) to reinforce the tee with through wall defect and 8 layers for the one suffering from internal corrosion.
Due to through wall defect, the client shutdown and flushed the line in order to apply the composite on the leak.
Before starting the tee reinforcement, surface preparation was completed with grit blasting to get a good surface roughness and ensure the bonding between the steel pipe and the composite. Surface profile evaluation was performed to confirm the roughness was superior to 60µm. The surface was then cleaned using acetone and hygrometric conditions were checked before wrapping procedure (steps described below).

1. F3XS1 filler with metallic plate was applied on through wall defect to seal the leak (this step was not necessary for internal defect).
2. Wrapping process covering the delimited areas was completed using Kevlar® tape impregnated with R3XHT+ resin (12 layers for hole defect and 8 layers for internal defect both of them with 600mm repair length).
3. Reference plate was installed on each repair for traceability purpose.
For each repair, samples of filler and resin were taken during application for quality control.
RESULTS
This job was a great challenge because of the several complicated data: tee geometry + hole defect + high temperature. Despite these difficulties the 2 lines were successfully repaired using our REINFORCEKiT® 4D HT+.