HIGH-PERFORMANCE COMPOSITE REPAIR SOLUTION FOR PIPE REINFORCEMENT
| | |
| --- | --- |
| DEFECT TYPE | External corrosion and hole |
| DETAILS | PIPES DETAILS: 18", 22", 24", 30" and 36" pipelines – oil and gas – temperature 70°C - design pressure from 3 to 17bars |
| LOCATION | Rajasthan, WEST INDIA |
| 3X PRODUCT | REINFORCEKiT® 4D |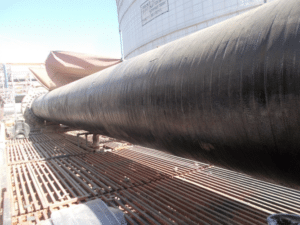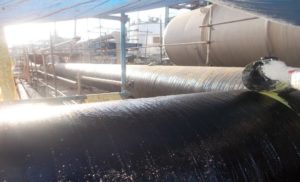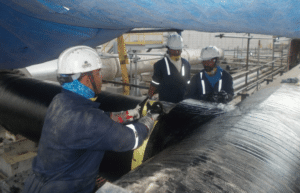 OVERVIEW
The objective of the repairs, started by 3X INDIA, is to reinforce several pipelines of various diameters (from 18" to 36") and geometries (straight line, elbow and tee) in Rajasthan region (west India) suffering from external corrosion or hole defects.
SCOPE OF WORK
According to ASME PCC-2 requirements and 3X design repair calculations, between 4 and 12 composite layers of REINFORCEKiT® 4D, are needed to reinforce the various defects (external corrosion and hole) and restore the original pipelines integrity.
A total of around 850m repair length will be achieved to completely restore the client's assets. This represents approximately 150 km of Kevlar® tape and almost 17 tons of 3X bi-component epoxy resin.
In one month, 80 meters have been already wrapped on the 36" pipeline. For this particular project, up to 16 technicians are involved and will be deployed for the next 24 months.
To increase the productivity of this huge project, the application team was divided in 3 sub-teams. One team is dedicated to the pipe cleaning and coating removal, the second one conducts the surface preparation and the last one proceeds with composite wrapping.
Below are the different steps performed for the 36" pipeline reinforcement affected by external corrosion:
1. Surface preparation was made according to 3X requirements to get a good surface roughness (60µm at least) and ensure a good bonding between the steel of the pipe and the composite of the repair. Hygrometric conditions were checked and the surface was cleaned using acetone.
2. 3X filler was applied over the defects to restore a smooth shape.
3. Composite wrapping was then applied using Kevlar® tape impregnated with R3X110 resin (dedicated for high temperature) 4 layers (design pressure is 3bars) were applied for a total of 80m repair length.
4. Reference plate was installed for traceability purpose.
Samples of filler and resin were taken during application for quality control.
RESULTS
This is just the beginning of this fantastic project. Repair design lifetime: 10 years. The quality of the first wrappings done and the good hardness measurements already performed predict a coming success.