UNUSUAL DECK REINFORCEMENT
| | |
| --- | --- |
| DEFECT TYPE | External corrosion |
| DETAILS | Deck reinforcement – max. op. temp. 40°C |
| LOCATION | VIETNAM, Onboard FPSO Armada TGT1 |
| 3X PRODUCT | REINFORCEKiT® PATCH |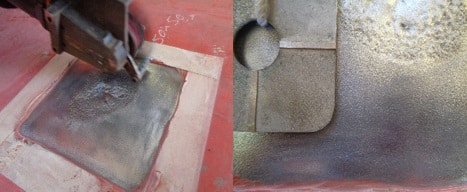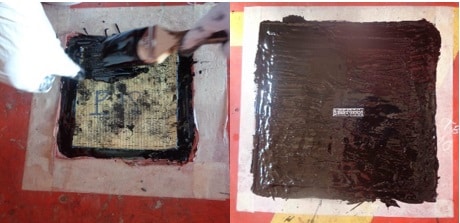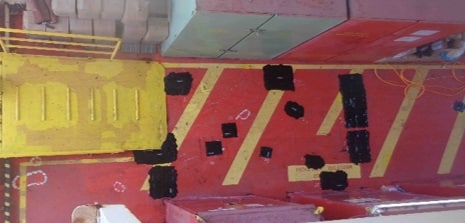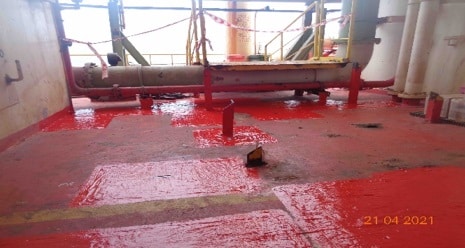 OVERVIEW
The objective of the repairs, performed by 3X ENGINEERING (3X) local distributor PETROENERTECH, was to reinforce the main deck onboard FPSO Armada TGT1 suffering from external damages metal loss due to the extreme offshore conditions.
SCOPE OF WORK
A total of 34 locations were reinforced on the main deck by applying 2 layers of tailor made REINFORCEKiT® PATCH as per ASME PCC-2 guidances.
Before starting the repairs, surface preparation was completed with Bristle Blaster® pneumatic machine (ATEX approved) to get a good surface roughness and ensure the bonding between the deck and the composite. Surface profile evaluation was performed to confirm the roughness was superior to 60µm.
Hygrometric conditions were checked and the whole prepared surface was cleaned with acetone.
REINFORCEKiT® PATCH installation was then performed as follows.
1. F3X8 filler application on the defected areas.
2. R3X55 resin application to ensure good wetting and impregnation of the 1st patch.
3. Impregnation of the 2nd patch. Finalization of the repair with reference plate positioning for traceability purpose and validation of the repair using hardness measurements.
4. Finally, some anti-UV painting was applied to protect the repairs.
Almost 50sqm of total surface repaired on the main deck using REINFORCEKiT® PATCH product.
RESULTS
This project was a great challenge and almost 50sqm of damaged surface were reinforced on the main deck of this FPSO to ensure the safety of the personal onboard. It has been also successfully completed on time despite international COVID-19 pandemic and all the safety measures and constraints associated.