ONLINE SF6 LEAK SEALING SOLUTION FOR FLANGE REPAIR
| | |
| --- | --- |
| DEFECT TYPE | SF6 gas leakages on flanges |
| DETAILS | FLANGE DETAILS: Open cone insulators – tension 400 kv - pressure 5.2 bars – temp. 25°C |
| LOCATION | SAUDI ARABIA |
| 3X PRODUCT | REFLANGEKiT® |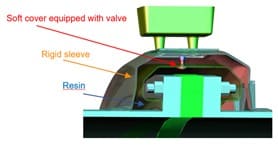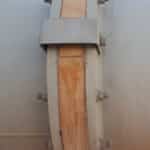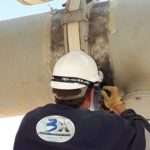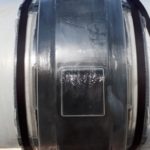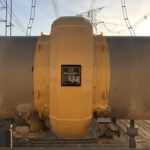 OVERVIEW
The objective of the repair, performed by 3X ENGINEERING and its local distributor ASSET PROTECTION CORP., was to repair 15 flanges with SF6 leakage.
SCOPE OF WORK
After data analysis and onsite inspection, it was decided to repair the flanges using our REFLANGEKiT® product specifically designed to seal SF6 gas leakage online.
Surface preparation was completed, using Bristle Blaster® machine, to remove the existing coating and get a good surface cleanliness of Sa 21/2 and roughness Rz > 60 µm, in order to ensure a good bonding of the product.
The repair was then performed following 7 main stages:
1. Preparation and installation of the soft shell around the defected flange. The goal is to protect all the functional parts and to concentrate the SF6 gas leak in a single point located on the top (= the valve).
2. Insulation and compression of the soft shell using specific 3X filler and adhesive tape.
3. Composite reinforcement is then performed with glass fiber impregnated with 3X resin.
4. Preparation and installation of the rigid shell around the composite reinforcement.
5. 3X resin injection into the rigid shell through an overflow positioned on the top. The valve is protected from the resin by a Teflon vent protection during injection of the resin.
6. Valve closing and leak control. After 3X resin curing, the vent is removed and the valve is closed using a plug. The imperviousness of the valve is then checked using SF6 gas detector to be sure that the leak is stopped.
7. The flange repair is finalized recovering the valve with resin. The REFLANGEKiT® is then painted with a protective coating and an identification plate is positioned on it for traceability.
RESULTS
This job has been successfully managed by 3X specialists and all the leakages have been sealed using REFLANGEKiT® product. The client is so satisfied that he ordered 13 more repairs for another site.